Stephen's Pool – Lower Pen-y-clawdd Farm Fishery
Stephens pool was completed in 2001 and at just under one acre in size. Stocked with only Carp & Tench, Stephen's pool is a wonderful location to escape the busy stresses of everyday life.  To fish Stephen's pool you need to be over 16 years of age, we ask anglers to please respect this request (you may be asked for proof in the form of a National Insurance card or passport if you look younger than 16). Stephen's pool was created to commemorate the life of Stephen Bayliss, the eldest son of the Pen-y-clawdd Farm owners John & Averil Bayliss. Stephen tragically passed away after a fight with Cancer at the age of just 29. Before Stephen passed he left some money, planned his own wake and expressed that…
"He would like something to be created in memory of his life, to do something good around the farm other than letting the farm just swallow the money" 
Stephen's wishes were followed and the construction of Stephen's Pool began.. This was the starting point for Pen-y-clawdd Farm Fishery as we know it today. The entire fishery is often regarded at Stephen's Pool by the locals- despite the fact that there are two other pools at the Pen-y-clawdd Farm Fishery – John's Pool (in memory of Averil's late husband John) and our match pool Wagtail.
Stephen's pool gently slopes to a maximum depth of 8 feet, but anglers should not ignore the margins, as some of the best fish are often caught close in.
Stephens pool is stocked with Common, Mirror & Tench. There are many Carp into double figures, there are also good Tench to over 3lb.
With easy access to South Wales, Forest of Dean, Brecon Beacons and Cardiff, Lower Pen-y-clawdd Farm Fishery is an ideal location for families to explore this picturesque area of Britain. Lower Pen-y-clawdd Farm Fishery offers 3 purpose built and well stocked coarse fishing pools ready to keep you occupied and entertained in peaceful surroundings.
What fish are in Stephen's pool
Click below to expand the fish facts
Carp
There are three varieties of carp which are commonly caught in the UK: Common, Leather and Mirror
APPEARANCE
All varieties of carp have very large, rubbery mouths with four barbules – two above the upper jaw with the other two at each corner of the mouth, these two barbules are particularly prominent. Carp lack teeth in their mouths, but have formidable pharyngeal teeth. These are used to crush food items, such as snails, and allow the fish to eject the unwanted shell and swallow the nutritious parts.
Carp are heavily bodied fish which have tremendous power and are one of the best (if not the best, depending on who you ask) fighting fish in UK waters. They lack scales on their heads, males are typically smaller than females and also have pectoral fins which are more pointed than their female counterparts.
Common Carp:
The common carp is a fully scaled, deep and full-bodied fish that is, for the most part, a golden colour. The top of its head and back is a bluish brown, the flanks are a brilliant gold colour and the underbelly is off-white, although it transitions to yellow towards the rear. The dorsal fin is long and grey/brown in the colour, the front section of this fin is tough, with a front spine that is sharp. The lower portion of their caudal and anal fins are generally an orange-red colour.
It is worth noting that the common carp can vary significantly in colour, so the carp described above will not always be 'the common' that is caught. Their backs can range from dark grey to brown, and the flanks can be deep bronze, golden, pale brown, or anything in-between.
Common carp have a tough, front spine that is present in the front part of the dorsal fin.
Leather Carp:
The leather carp lacks scales and so is completely smooth, it can have some scales along the dorsal line and the wrist of the tail. In pretty much every other aspect though it is the same as the Common Carp. Leather carp are a rare catch in the UK and are far more common on the continent.
Mirror Carp:
The mirror carp gets its name from the distinctive, overly large, golden scales which decorate its flanks which were said to resemble mirrors. Excluding these scales, the mirror carp is pretty much the same as a common carp, although its flanks can range significantly in colour, from olive, deep bronze and even pale yellow/grey specimens being commonplace.
Tench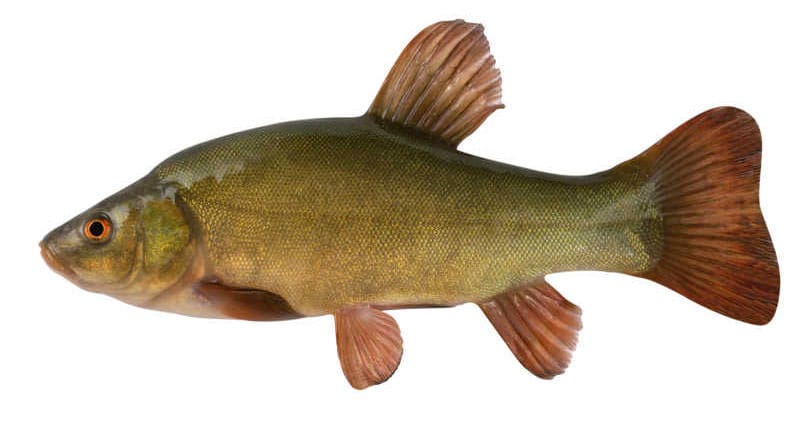 In the UK, tench typically grow between 16-28 inches (40-70cm) in length and weigh between 2-5 lb (1-2 kg).
APPEARANCE
The tench is a stocky fish with a humped back that gradually slopes up from its rounded head. One of its most distinctive features is its eyes, which are particularly small and red-orange in colour, located on both sides of its head. The mouth is narrow with thick rubbery lips and a small barbule on either side.
Its back ranges in colour from pale olive-green to brown-green, the flanks are usually a brilliant green-golden colour, the underbelly is cream/pale orange in colour and is virtually flat (as is the case with many bottom feeders). With the exception of the tail fin, which is square in shape, every fin has distinctly rounded edges. The tench has very small scales which are set deep into the skin, it is also covered in a thick slime. The result is a fish which is particularly soft and slippery and therefore a real pain to keep hold of once it's out of the water! This slime was said to cure all ailments, giving rise to the tench's nickname of the 'doctor fish'.
The tench is a shoaling fish. When the fish are small, these shoals are large and gradually decrease in size as the individual fish within the shoal grow in weight and size. Tench above 7 lbs (3kg) have a tendency to be found in small groups or just pairs.
Warning: Tench will leave behind a considerable amount of slime, this means that landing nets will require a thorough clean after a session. Otherwise, a stiff, crusty mesh that smells particularly bad will form on the net.
Stephen's Pool photo gallery